Let's collect Family crest stamps over stamp rally support facility in Sekigahara-cho and restaurant during period!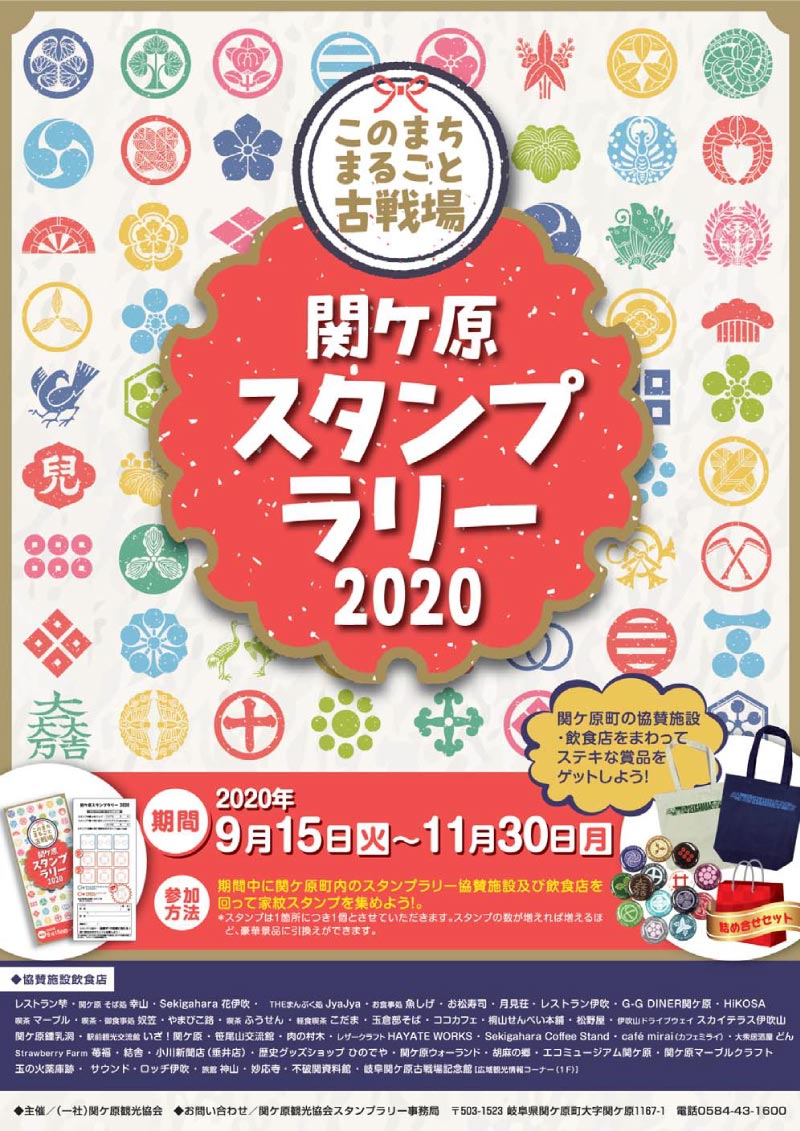 We start one of the annual popular events stamp rally on Tuesday, September 15 this year (until Monday, November 30).
When we go around the support facility, restaurant while seeing the sights of Sekigahara and collect Family crest stamps, we can change with wonderful prize.
Please enjoy sightseeing in Sekigahara while using advantageous coupon.
About place of premium contents and premium exchange
We perform exchange of premium in "Sasaoyama Tourism Center" or "Sekigahara Tourism Center"
Four stamps: Canned military commander Family crest badge
Seven stamps: In the case of the Sekigahara original goods (the first 300 people) end of two can badges hand.
Ten stamps: Sekigahara assortment set (we exchange announcement of ten people election with shipment by lot)

If stamp of card is prepared, please bring clearly stating the requirements to Sasaoyama Tourism Center or Sekigahara Tourism Center.
We trade with premium.



Careful:
Premium exchange of Tuesday can change both halls in Sasaoyama Tourism Center (the tourist association secretariat) for Closing days together on Tuesday.
Thank you for your understanding beforehand.



Receptionist by mail heard "only ten stamps course", too.
Please send destination to the following secretariat.

〒503-1523
1167-1, Sekigahara, Sekigahara-cho, Fuwa-gun, Gifu
It is addressed to the Sekigahara tourist association stamp rally secretariat

Instructions
When stamp card is lost, please note that you cannot reissue.
Please come after having confirmed beforehand as each facility, holiday and Business hours of store are different.
Stamp rally can challenge again and again, but cannot plurally possess.
We cannot return stamp card which had you apply.
We do not use personal information of person who had you apply other than the use purpose (shipment of products).